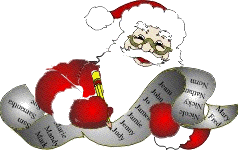 Christmas is coming. Santa Claus is coming to town soon (as what the kiddos believe). That's two more months, after Halloween and Thanksgiving.
Speaking of Santa Claus, do you have kids? nephews , nieces or kids you care a lot? Would you like them to receive a personal letter from Santa Claus?
Well, I found this link of a freebie. It's a free letter from Santa. A nonprofit organization called Santa's Elves, Inc. provides FREE letters from Santa Claus himself! No cost at all. No shipping fee too.
When you get to their website, click on the request a letter link, and fill up the form which ask of the children's names, and the addresses to which the letters should be sent, and write a brief narrative about the child/children. You can write how wonderful the children in your life are to you and more, whatever you wish to write. That easy. I am sure your kiddos heart will be touched by Santa's personal letter. Here's the freebie link, FREE Letter From Santa. Have fun!